Today was Try It Thursday is the cafeteria. We made samples of blueberry smoothies for the students to sample.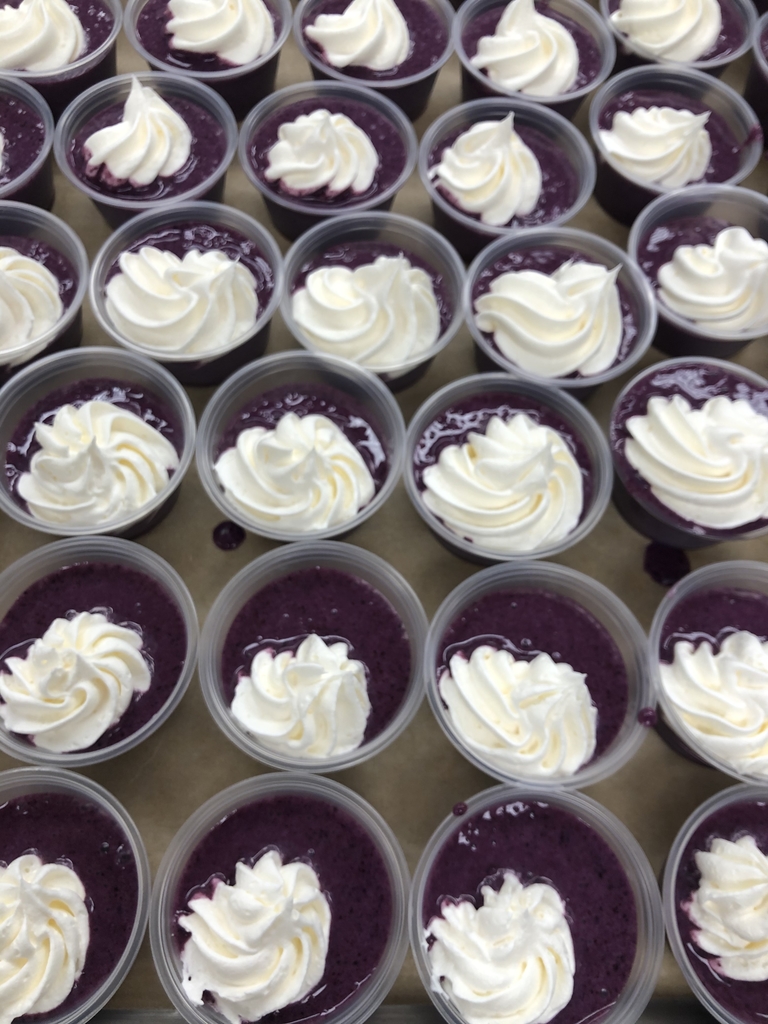 REMINDER: NO School on Friday, February 14 No School on Monday, February 17 Enjoy the extra time off and do something FUN with your child/children/family!

Don't feel like cooking? Want to avoid fast food and have a good meal instead? Come out to the Black Olive Restaurant on Tuesday, February 18th between 5:00 PM and 8:00 PM. Please help NHS and Student Council raise money to fight Childhood Cancer. ALL proceeds go to Four Diamonds and help to reach our $5000.00 for our 4 for Four Glowing for a Cause event on April 26th. Hope to see you there!

Middle School Math Night is TONIGHT!!! Parents, if you need math tips to help your students, please come to Taylor at 6pm, where the Mr. Kreider, Miss Lockard, Mr. Moore, and Mrs. Fickes will provide assistance to you! Light refreshments will be served!

Parents: Do you struggle to help your students with Math? Come meet with the 5-8 grade math teachers on Wednesday, February 12 from 6-8pm at Taylor to get some tips and tricks to make common core math more manageable! Light refreshments will be served!

Our school district has an amazing opportunity coming your way!!! Family First Health is offering our students dental care. The services that will be provided at the school will include: • Check-ups (Every 6 months) • Cleanings • Fluoride treatments On February 12th and 26th, the Family First Dental Team will screen all of the students in kindergarten through fourth grade. On February 27th all Seventh (7th) grade students will be screened at the High School. If you DO NOT want your children screened, please notify your student's school nurse. Please take advantage of this wonderful opportunity!!

Save the Date - Columbia Job Fair - Columbia High School Gym - Thursday, February 27, 2020 - 6 to 8 pm - full and part time jobs available for Adults and Students!
We had a Kale Pesto food demonstration yesterday. It was a huge success. The students were able to try a delicious and healthy snack. Recipes were provided for home use😀

Just a reminder that we have Keystone Testing quickly approaching when we return for the new year. Testing will be as follows: Jan 6 and 7 - Algebra Jan 8 and 9 - Literature Jan 14 and 15 - Biology

CANCELLATION - Columbia Girls basketball game at Home this evening has been canceled due to unexpected weather conditions. Rescheduling information will be on the District website.

Columbia School District's Bands will perform their annual Winter Concert this evening at the Columbia High School Auditorium beginning at 6:30 pm. Instrumentalists from grades 5 to 12 will be in concert. Plan your evening at the CHS Auditorium for an all District Band concert!
We offer a variety of menu options for banquets. Contact Food Services for more information. LLAOP banquet- Vegetarian and Traditional Lasagna, Stuffed Tomatoes, & Assorted Cakes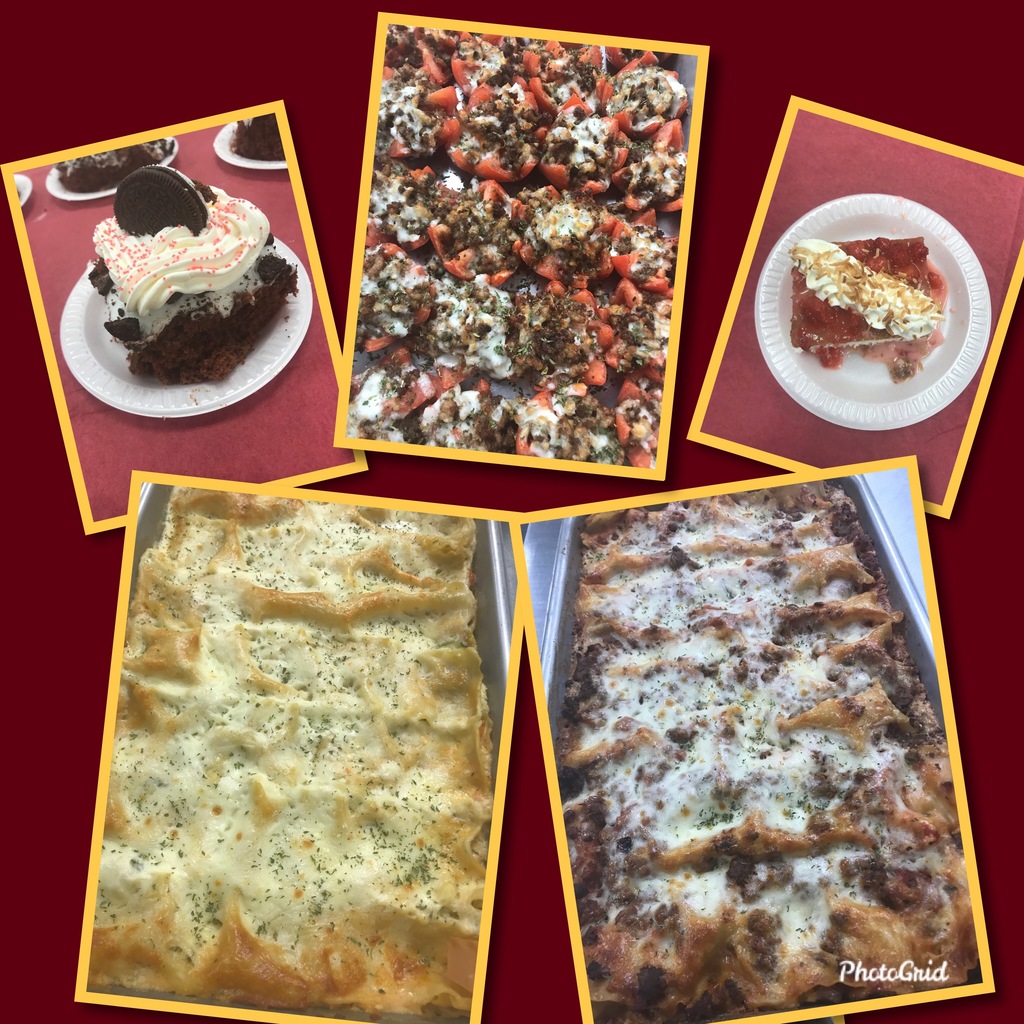 All: Due to the very inclement weather expected for tomorrow morning, we will postpone the leaf clean up in the park until next Saturday Dec 21st starting at 8:00AM, Columbia Borough Public Works Director Jake Graham will have the leaf vacuum truck and a crew available next Saturday. Please notify your volunteers from your network of dedicated workers that planned to participate tomorrow, and request that they help next Saturday Dec 21st.

Senior Scholarship Packets will be handed out to seniors on Friday during a meeting during block 1A. Seniors that attend CTC should come to a meeting at 7am in the LGI prior to leaving for CTC. Students can get breakfast and then attend the meeting to receive their packet.
Today is the day for the Columbia Parent Teacher Partnership Raffle and Vendor Event! Stop by from 10 to 2 at Park Elementary - Raffle, Shop, Eat and Drink, Be Merry! See you there!

Columbia School Board announces an anticipated Board vacancy. Interested individuals should send a letter of interest to: Mr. Keith Ramsey, Secretary CBSD 200 N 5th St Columbia, PA 17512. Letters must be received by 4 pm Dec 27, 2019. Interviews will be held on Thurs, Jan 2, 2020 at 6 pm.
Raffles, vendors, holiday pictures, snacks and drinks all to benefit, Columbia Parent Teacher Partnership, this Saturday, the 7th from 10 to 2 at Park Elementary!
Raffles, Holiday Pictures, Snacks and Drawings, OH MY! The Columbia Parent Teacher Partnership Raffle and Vendor Event will be Saturday, December 7th from 10 to 2 at Park Elementary! See you there!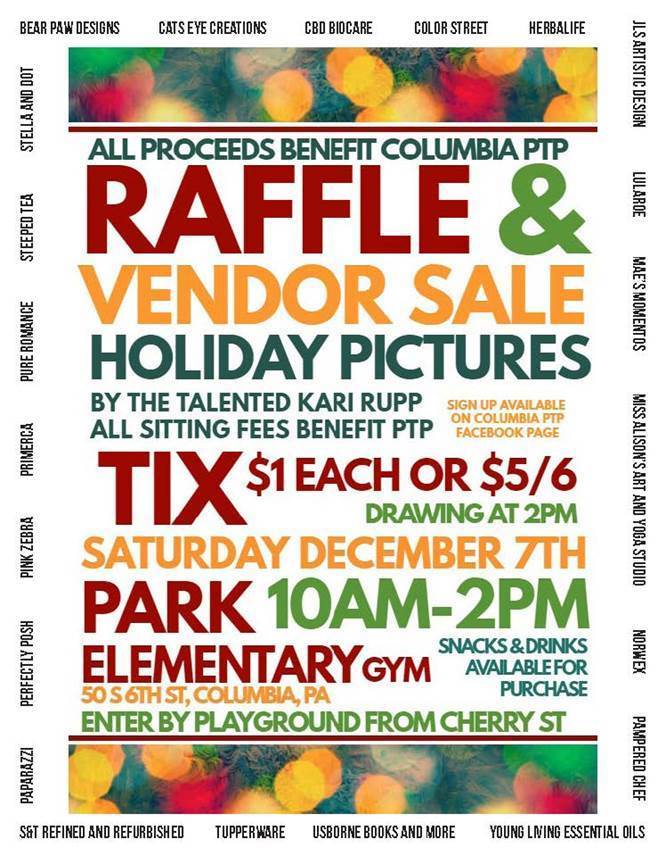 There is still time, tomorrow, November 29th, is the deadline to register for a Christmas Food Box. Please click on the flyer for more information or pass it on to a friend in need.
Happy Thanksgiving!